World Wide Amateur Radio Magazines -- Over 62 Ham Magazines From Around The World -- From George, WB2AQC
WEB PAGES FOR OTHER MAGAZINES
Worldradio Magazine -- Excellent Ham Radio Articles
Antennex

ARRL Magazines & Publications
Communications Quarterly -- The ARRL has purchased the Amateur Radio technical journal Communications Quarterly from CQ Communications and will merge the publication with the League's technical journal QEX. The change becomes effective for subscribers starting with the March/April 2000 issue of QEX.
CQ Magazines
DX Publishing, Inc. -- The DX Magazine, QRZ DX News letter
Everyday Practical Electronics Magazine -- UK's No. 1 Electronics Magazine
Ham Radio OnLine Magazine
Monitoring Times
North American Shortwave Association Journal
Nuts And Volts
QEX Magazine -- QEX is the ARRL "Forum for Communications Experimenters." Published bimonthly, it features technical articles, columns, and other items of interest to radio amateurs and communications professionals.
QST Magazine -- "Simply put, QST is the best source of news and practical information from the world of Amateur Radio."
Also See NewsLetters & Bulletins -- Ham, DX, Emergency, and more

HAM BOOKS BY AC6V
DX101 HF AND FM101 NOW AVAILABLE AT HAM STORES


See Reader Reviews Of DX101x See Reader Reviews Of FM101x

FOR GREAT RIG PROGRAMMING GUIDES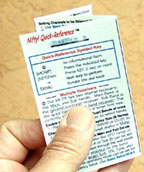 SEE NIFTY ACCESSORIES


CAN'T FIND IT? SEARCH THE WEB OR THE AC6V WEBSITE

GO BACK TO THE BIG INDEX

GO BACK TO THE QUICK INDEX
Last Update: January 18, 2010