THE PROPAGATION PAGES
PROPAGATION SOFTWARE
PROPAGATION LINKS AND PAGES
AURORA PAGES AND LINKS


Propagation Mail List Reflectors -- Several to choose from includes Subscription Info

GROUND WAVE, LINE OF SIGHT
Ground Wave Propagation and Distances -- Via G3CIW
Guide To Transmitter Range Via Artsci

Calculating the Distance To The Horizon

Radio Mobile -- Predict the performance of a radio system -- From VE2DBE
Line Of Sight Transmitter Range

HF PROPAGATION
KN4LF 160 Meter Radio Propagation Theory Notes
The 160-Meter Band: An Enigma Shrouded in Mystery
Basics of Radio Wave Propagation
Propagation Primer -- Excellent From AE4RV
W6ELProp™ -- By Sheldon C. Shallon, W6EL - predicts ionospheric (sky-wave) propagation between any two locations on the earth on frequencies between 3 and 30 MHz. YOU HAVE TO HAVE THIS ONE -- HAMS OR SWLers
ON5AU Propagation and Antenna Site -- Loaded with good info and graphs
D-Region Absorption Prediction - From The NOAA/Space Environment Center
Excellent Propagation Info -- By Geoffrey Noles, AE4RV
Radio Propagation -- from Your Remote S-Meter pages

LONG PATH PROPAGATION
Long Path HF Radio Propagation By Norm Styer - AI2C

VHF/UHF PROPAGATION
ARRL Propagation Classifications for VHF/UHF -- Propagation modes are tropospheric refraction and ducting (including line-of-sight paths), divided into in three categories:
Tropo (A) (tropospheric modes across the Atlantic, Caribbean, and Gulf of Mexico);
Tropo (C) (tropospheric modes across continental North America;
Tropo (P) (tropospheric modes across the Pacific);
Aurora (auroral scatter);
Auroral E (auroral E);
Sporadic E (sporadic E);
FAI (E-layer field-aligned irregularities;
IFS (ionospheric forward scatter);
Meteors (meteor scatter);
TE (transequatorial field-aligned irregularities);
Rain scatter (precipitation scatter).
VHF/UHF Propagation -- Excellent Info, Sporadic E, Tropo, Backscatter, Meteor Scatter, Aurora, F2 Skip, more
All About Sporadic-E Propagation at VHF
Hawaii Tropo Ducting -- VHF And Above World Records
Non-Ducting Tropo Propagation -- From M1BWR
EXPERIMENTAL NORTH AMERICAN 144 MHZ SPORADIC E ALERTING SERVICES

PROPAGATION SUMMARIES, CHARTS, SOLAR FLUX REPORTS
DX Sherlock 1.4 VHF-UHF Including Six Meters -- QSO Real Time Maps
WM7D Propagation Summary -- SFI A and K, Solar Cycle Graph, more
NM5K Propagation Summary -- Current Solar-Terrestrial Conditions
QST HF Propagation Prediction Charts -- MUF, Best Propagation Paths and Times -- PDF Files -- From the ARRL
Solar Flux Graphs --By WN6K, Paul
Latest Solar Report -- Nice Charts and Graphs - From DXLC, Jan Alvestad
Latest Solar Report -- Updated every 5 minutes -- From NOAA Space Environment Center
Space Weather Now - Geomagnetic Storms; Solar Radiation Storms; Radio Blackouts; Latest Alert, Warning, or Watch; Solar Cycle Progression and much much more on Ol Sol
Solar Activity -- Excellent From Dan, W3DF
27 Day HF Propagation Prediction Chart -- From Paul, AA1LL
PROPAGATION -- Hottest new propagation page on the web. Contains many indicies and reports that are dynamically updated as soon as new information is available. -- From QSL.NET
Propagation Studies Committee - RSGB -- By Martin Harrison G3USF
IPS Support for HF Radio World Wide -- From Australia
SpaceWeather.com - A goodie on ol sol
Skywave Technologies -- Propagation Tutorial & Programs
Radio Propagation Conditions From Ham Radio On-Line
Propagation Forecast By AD5Q. -- No Longer Active -- But has 11 Years of Monthly Propagation Reports
Solar Flux Graphs -- from The CT1BOH Web Site
Solar Terrestrial Activity Report -- By Jan Alvestad -- Recent solar and geomagnetic data (updated daily); Solar WIND and electron fluence charts (updated daily); Solar cycles 21-23, [Solar cycles 1-20; Graphical comparison of cycles 21, 22 and 23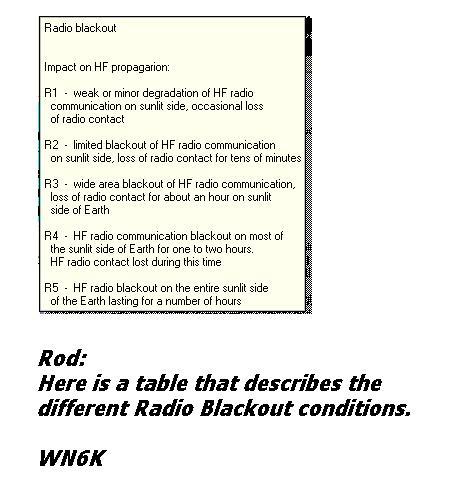 LONG DELAYED ECHO
More On LDE -- From THE WAYBACK MACHINE #31 by Bill Continelli, W2XOY
Mystical delayed radio signals -- Received in Oslo
LDE Reports From The UseGroups

PROPAGATION PRIMER AND TUTORIALS
Basics of Radio Wave Propagation
Propagation Primer -- Excellent From AE4RV
Propagation Glossary -- From The Basics of Radio Wave Propagation Pages
Propagation Topics -- Via The Space Environment Center -- Includes a GLOSSARY OF SOLAR-TERRESTRIAL TERMS

THE PROPAGATION SOFTWARE PAGES












54 HF Propagation Prediction Programs Reviewed -- From Luxorion -- Home Page
ACE-HF -- Professional Propagation Software for HF Radio Operators
DX Toolbox -- From BlackCat Systems -- searches the web for you, gathering information on solar and geomagnetic conditions that affect radio propagation. It also features several propagation forecasting tools. It's ideal for the ham radio operator, shortwave listener, or other radio enthusiast, and is available for Mac OS, Mac OS X, and Windows.
HamCap --- (by Alex VE3NEA) is a compact freeware interface program to VOACAP, incorporating both graphical Point-to-Point and Area Coverage predictions. Also see HamCAP and Type 13 & 14 Antennas
High Frequency Propagation Models -- U.S. Department of Commerce NTIA/ITS -- About a dozen or so to choose from
IONSOUND HDX or TURBO From Skywave Technolgies
Kangaroo Tabor Software -- WinCAP Wizard, CAPMan, Active Beacon Wizard -- Propagation and Beacon Programs
KU5S -- Communications Analysis Prediction Wizard
MultiNEC 2.0 -- -- Automate and animate your antenna modeling and propagation
predictions -- From AC6LA
PropGate - Propagation over line-of-sight and multi-hop ionospheric paths. Path loss, field strength and S-meter readings. Free From Reg, G4FGQ
PropView uses the included IonCap propagation prediction engine to forecast the minimum and maximum useable frequencies between two locations over a specified 24 hour period
Radio Explorer -- By Dmitry Nefedov -- Graphic viewer for shortwave radio broadcasting schedules. Displays data in a tree-like expanding table, on a 24-hour Gantt chart, and on a world map with greyline and frequency coloring. Developed in Java and runs with multiple operating systems including Windows and Linux. Can be installed with a single click on a web page link via Java Web Start.
Skywave Technologies -- Propagation Tutorial & Programs
TWOHOPS -- calculates propagation statistics of one and two hop radio paths, including elevation angles.
VOACAP -- Voice of America - Propagation Prediction Program -- Also see below
VOACAP Quick Guide -- by Jari Perkiömäki, OH6BG -- Free - A half a year's work in understanding how VOACAP really works. It provides easy steps to select the right input values along with discussions and case studies. If you are using ACE-HF, WinCAP Wizard or MultiNEC with VOACAP, this Guide provides you with the basic knowledge so that you can utilize those products to their full capacity.
W6ELProp™ -- By Sheldon C. Shallon, W6EL - predicts ionospheric (sky-wave) propagation between any two locations on the earth on frequencies between 3 and 30 MHz.

THE AURORA PAGES












High Frequency Active Auroral Research Program (HAARP)
Aurora Photo Index -- From "Your Remote S-Meter" Pages

---
CAN'T FIND IT? SEARCH THE WEB OR THE AC6V WEBSITE

GO BACK TO THE BIG INDEX

GO BACK TO THE QUICK INDEX
Last Update: January 17, 2010