CALLBOOKS AND QSL ROUTES
Compiled By AC6V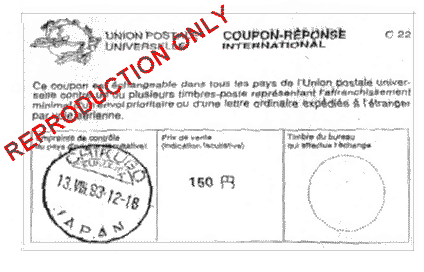 VIA THE BURRO? IRC's? GREEN STAMPS?
NOTE: Check your IRC's - some are due to expire on 12/31/2006
For USA, on May 14, 2007 - the overseas airmail goes up to 90 cents.
THE QSL GUIDE
QUICK GUIDE TO FINDING QSL INFO:
1. On-Line DX Callbooks 2. Pathfinder 3. DX News 4. DXpedition News 5. DX Packet Cluster
6. DX Manager Data Bases 7. On Line QSL Data Bases
8. AND DON'T OVERLOOK GOOGLE.COM
DOMESTIC CALLS
QRZ -- Search By Call or By Name
FCC Data Base -- Application Records and License Records
HAM Lookup v1.0 Virtual callbook / callsign search application available on CD-ROM for both Windows and Linux for the purposes of quickly finding Amateur Radio (Ham Radio) call signs in the U.S. FCC database.
hamdata.com --- Callsign Lookup and Latest FCC Data including Total US Ham Population.

CallDat 73.02 - Amateur radio license call sign lookup program. It uses the FCC downloadable license database file.
WM7D QSL Info System -- Yesterday's Issued calls, E-Mail Addresses, Super Data Base with Local Map For Retrieved Calls
Mike's Amateur Radio Page -- Loaded with QSL Lookups and much more
NĜOKS Freeware --downloadable program that displays the name and address of any USA or Canadian station.
1993 USA Callsigns -- Now On-Line -- From QRZ
---
VANITY Calls -- All About the Vanity Calls -- From the ARRL
Vanity Calls Signs Issued -- Updated From Sunnyvale VEC ARC, Inc
Vanity Call Application. -- From ARRL
All about Vanity Calls -- Including Unused, Applications, much more -- From Vanity Call HeadQuarters May be outdated
W5YI National Radio Examiners -- To assist applicants in obtaining the various FCC-issued Amateur and Commercial Radio Operator licenses. THE EASY WAY.
USA 1 BY 1 Call Signs -- From The ARRL
Old Call Lookup -- Via QRZ.com --- 1993 QRZ Callbook -- has calls back to 1983 (provided that they were still licensed in 1993).
How to Research an Old License or Callsign -- From QRZ.com
FAQ From ARRL: Grandfathering etc. Getting old license info from the FCC or their Contractor ICS, INC. Also mentioned somewhere is QUALEX, Phone 202-863-2893, Email: qualexint@aol.com
Also Try W5YI Super Site -- The W5YI-VEC will perform exhaustive hand lookups into their massive collection of old callbooks for a $5 fee. Contact them at 1-800-669-9594.
1921 USA Callbook -- like 8X1 etc. If you want a lookup by CALLSIGN -- e-mail AC6V

DX MANAGERS AND DX QSL ROUTES

PATHFINDER - Web Based -- Find QSL information from web-accessible sources.

PACKET CLUSTER LOOKUPS

DX Summit -- Use The Spot Database Search.
Query The DB0SDX Databases

THE GOLIST - Subscription -- One of the Best and Oldest of the QSL Info Publications -- NEW features for Guests and Registered Users -- Be sure to Check it out!!
Mike's Amateur Radio Page -- Loaded with QSL Lookups and much more
QSL and MGR database -- From OZ7C More than 356.000 (QSL) 19.000 (MGR) records. Weekly updates
QSL Manager Addresses Via William B. Feidt (Bill) NG3K

The QSL Manager's Society -- List Of QSL Managers with E-Mail Addresses
IK4LZH QSL INFORMATION SYSTEM -- DX Lookup Page for Managers and DX Addresses
IK3QAR QSL Manager and on-line DX addresses
QSL Routes - Issues of DXNL Via -- William B. Feidt (Bill) NG3K
QRZ -- US and Some DX
The Daily DX - Search Engine -- By Bernie McClenny, W3UR
K4UTE Quick QSL Manager Lookup -- DX Managers and DX Direct
DX CENTRAL -- One Stop Search Engines For DX Logs, DX Managers, QSL Routes, and Call Lookup
QSL Extra -- Via DB1JAW
QSL Manager Addresses -- Via NG3K
ON6DP QSL Manager Page -- 53,000 Routes -- A Downloadable Data Base
The International DX Association -- INDEXA - Provides DX news and QSL routes via the Information Session that is conducted daily on 14.236 MHz at 2330z
SM5ARL´s QSL Info Page -- DX Stations & Managers
TEARA'S QSL Lookup Page -- FREE QSL Manager/Route program
N5XX DXpeditions -- N5XX/MM, XE/N5XX, FO/N5XX, ZK1XXX, ZK2XX, A35XX, and ZL/N5XX operating from numerous islands, on land or on the boat. QSL Manager is Harry Hodges W6YOO - via QRZ address.

Pirates, Slims, & Bootleggers -- Definitions (sort of)
DX, DXpedition & Contest Log Searches
Log Searches -- OVER 2160 and Growing -- From VA3RJ
Log Searches -- OVER 1700 -- From K3WWP
Log Searches -- From DX.QSL.Net -- Search Menu & Links
DXers & Contest Logs -- Over 100 Log Books -- Via Arkansas DX Association

MANY LOG BOOKS ON LINE -- See The OPDX Bulletin & Archives
DX CALLBOOKS

XT1
TT8
C91
ZA1
AC6

Radio Amateur Call Book - The Flying Horse
QRZ Ham Radio CallBook CDROM -- 28th Edition
Callbooks - CD's, Books - For Sale -- Several to choose from including IOTA Directory and more
CQ Callbook - Online Internet Callbook - From Oleg Silkin (RA3DCT). This program makes it easy to find QSL information from web-accessible sources like address and manager databases and country-specific callbooks. Version 2.00; May 8, 2003; size - 343 Kbytes).
Platform: Windows 9x, 2000, Me, NT, XP.

---
CALLBOOKS ONLINE
OR TRY PATHFINDER



QSL Inquiry Reflectors & Electronic QSLing
FOR QSL REFLECTORS & E-MAIL INQUIRES -- SEE MAIL LISTS
eQSL.cc - Electronic QSL Card Centre -- Exchange QSL's electronically.
---
QSLCARDS.COM -- Create and distribute your own online QSL Cards via the web!
---

DX REFLECTORS -- Three to choose from (or all 3??)


IOTA QSLs

INCOMING - OUTGOING QSL BUREAUS

ARRL Incoming QSL Bureau -- "How To" and Addresses of District Burros

Sixth District Incoming QSL Bureau

ARRL Outgoing QSL Bureau -- Send em by the pound!!
World Wide QSL Bureaus -- IARU List Of QSL Bureaus

QSL PRIMERS & MANAGEMENT -- All About QSLing, Get Maximum Returns, IRC's, Return Postage, Envelope Sizes, Albums, File Systems, Managers, Addressing, Bureaus & Much More

QSL SERVICE AND POSTAGE

Postage Rates Worldwide -- Via K4HB See This One For Sure
World Wide Postal Rates From Markus Seitz
Classic Currency Converter -- Via K4HB
IRC price currently is $2.00 USD within the USA
---
Redeem Those Soon-to-Expire International Reply Coupons:
Thanks to "The Daily DX" for this information.
If you have old US-issued International Reply Coupons (IRCs), they can still be redeemed, but you need to do it very soon. IRCs issued prior to 2002 (the old small ones) can be redeemed for one penny less than the issue (stamped) price, and must be redeemed by October 10. IRCs with an expiration date of December 31, 2006 can also be redeemed for one penny less than the issue price; these must be submitted to the post office by September 1, 2008. All non-US stamped IRCs issued prior to December 31, 2006 are non-redeemable. For more information, please refer to pages 28 and 57 in US Postal Bulletin 22215, dated September 13, 2007. Search The USPS Site for bulletins -- URL:
http://www.usps.com/
---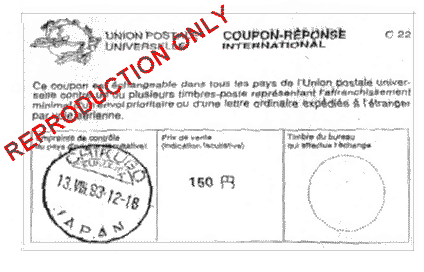 All About IRC's From N6HB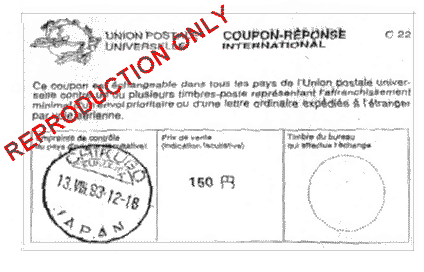 IRC's TIPS AND ADVISE -- What are they worth??

IRC & GreenStamp Chart -- IRC's Required to return a QSL to the United States -- From N6DHZ
---

On 1st January 2002, a completely new style of IRC will be introduced to be known as the CN 01 (as the present style). This new type of IRC will be larger than those presently in circulation and will remain valid until 31st December 2006. The name of the country of origin will be printed on these coupons as a matter of course. Also printed on them, amongst other things, will be a standardized UPU bar code containing the ISO code of the country and the date of printing. Each country's postal administration will have the option of printing the selling price on the coupon itself. The old style coupons will be withdrawn from sale on 31st December 2001. Properly validated coupons will continue to accepted for exchange for postage stamps until further notice from the UPU.
---
INTERNATIONAL POSTAGE STAMPS -- From William J. Plum, foreign airmail return postage, as well as euro sized nesting airmail envelopes, QSL albums and other related items.
plumdx@msn.com
INTERNATIONAL POSTAGE STAMPS -- From K3FN, Return stamps from the DX country of origin, Air/Plain mailing envelopes, rubber stamps.
---
Ham Stamp Collection -- Postage Stamps From Around the World

CAN'T FIND IT? SEARCH THE WEB OR THE AC6V WEBSITE

GO BACK TO THE BIG INDEX

GO BACK TO THE QUICK INDEX
This Page Last Updated: January 17, 2010