THE AC6V BRAG TAPE

Rod Dinkins, AC6V - Silent Key
1931 - 2008
Rod passed away in February. More info can be found here. Our family wants
to thank all the wonderful, supportive emails we've received in these last weeks.
Rod was a wonderful husband and father, and we miss him tremendously.
We also want everyone to know that Rod had been working with his son, Jeff Dinkins, to
carry on publishing his books and keeping AC6V.com live and up to date, as well as attain
his Extra Class license (done 12/2009!) and to apply for the AC6V call sign (done 01/2010!).
Best Regards - Karla (XYL), & sons Steev & Jeff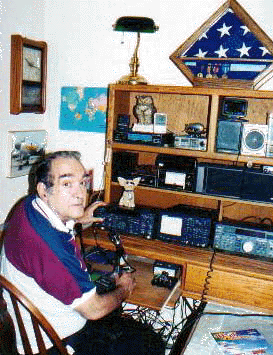 AC6V
Rod Dinkins
Oceanside, CA, USA, San Diego County

First Ham Ticket WA6WTO - April 2, 1977
AC6V - original issue - July 18th, 1978


10/10 Number 18029
Grid Square DM13ie, CQ Zone 3, ITU Zone 6


Hi, I'm Rod Dinkins living in Oceanside, CA. I started in radio in the late 1940's as an SWL, AM, and Ham band Listener with a Knight Kit OceanHopper - later a Hallicrafters S-40A.

Electronics seemed to be my calling and I had 2 years of vocational electricity and electronics in High School. Four years in the US Navy during the Korean War as an Aviation Electronics Technician - AT1. Also taught electronics at NATTC Memphis, TN - one year.

Four years at Convair Pomona as an instructor of electronics and guided missles. 2 years as a vocational electronics teacher at the Junior college level in Walnut CA. Achieved an AA degree in Electonics under the GI Bill. Over 30 years as an Electronics Technical Writer with aerospace and Hewlett Packard. Licensed in Amateur Radio since 1977.

Today I am Full Time DXing (retired), writing Ham Books and enjoy working on my web pages and being as good an Elmer as I can.




Field Day 2002. 11 Year Old Bryce Kozlowski contacts Australia!


With Assist From AC6V and KG6HBF
Photo By W6VR
AWARDS GIVEN TO THE AC6V SITE





CLICK HERE FOR DA SHACK AND DA BIRD
Some Digital Photos with my Olympus D600L

WHY ANOTHER HAM RADIO PAGE???
Just My Way Of Giving Something Back To Ham Radio
Rod in San Diego


MY HAM AWARDS -- BRAG BRAG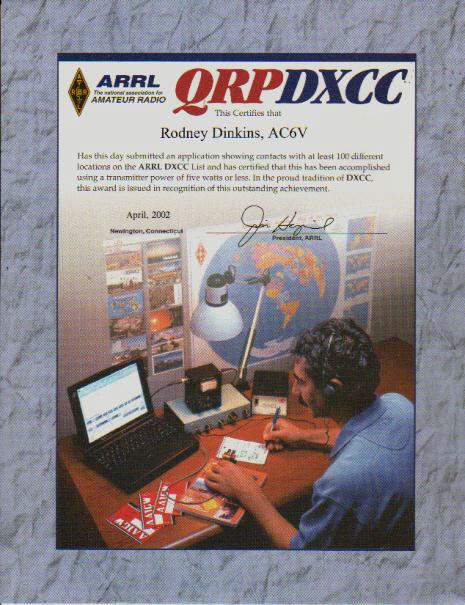 DXCC HONOR ROLL (326 MIXED)

DXCC QRP (107 MIXED)


5Band WAS + WAS 17M + 49 STATES ON 12M (Need Utah)


Six Meters -Worked 49 US States and 6 DXCC Countries. 226 Grid Squares (VUCC)
State Needed For WAS 6M - KY.


WAZ 10M, 15M, 20M



DXCC MIXED #18222

DXCC PHONE #8758

DXCC CW #1682


DXCC HONOR ROLL MIXED SEPT 2001

DXCC QRP APR 2002


5BAND WAS #421

WAS CW #27,120

WAS QRP


WAZ 10M SSB #118, 15M, 20M


WPX #888

WAC

WAVE #985

Current ARRL DXCC Entities- 335


DXCC Mixed - All Time Confirmed + Deleted -- 336 (326 Current)


DXCC Phone - All Time Confirmed + Deleted -- 328 (319 Current)


DXCC CW - All Time Confirmed + Deleted -- 168 (165 Current)


DXCC QRP - All Time Confirmed + Deleted -- 107 (107 Current)


DXCC Band Countries - All Time Confirmed + Deleted -- 1085 (1075) Current)
DXCC is copyright ARRL and its use here is printed with permission of the ARRL.


2,112 miles per Watt -- Mozambique C9 -- 10,564 Miles to San Diego, Ca -- Worked QRP -- 5 Watts


Ten/Ten Number 18029


Grid Square - DM13ie



WANA -- Worked All Neighbors Again


WAB -- Worked All Beacons (:-)


TORA Award -- Timed Out Repeater Again

COUNTRIES STILL NEEDED FOR TOP OF THE ROLL (9)


3Y - Bouvet -- Not Even Captain Cook Could Find This One!!


7O - Yemen - Missed Em


BS7 - Scarborough Grief


P5 - No. Korea


VK0 - Heard -- I've never even Herd Em


VU - Nicobar


VU - Laccadive -- Lack this one too!!


YA - Afghanistan -- Been Hounding em


ZD9 - Tristan da Cunha
COUNTRIES NEEDED FOR DXCC HONOR ROLL PHONE (7)
(Or Any Of The

Above


9U - Burundi


BV9P - Pratus Isle


E4 - Palenstine


FT5W - Crozet Isle


FT5Z - Amsterdam Isle


VK0 - Macquaire Isle


ZC4 - UK Bases-Cyprus



But I am QRO!!!!!


U.S. NAVY SERVICE


Rodney Roy Dinkins
USN 4287963





US Navy -AT1 - Aviation Electronics Technician 1951-1955.
Radio Operator and Avionics Maintenance Technician.
Air Transport Squadron VR-8Hickam Field Hawaii
Aircraft were Douglas R5D and Lockheed R7V-1 Super Constellations.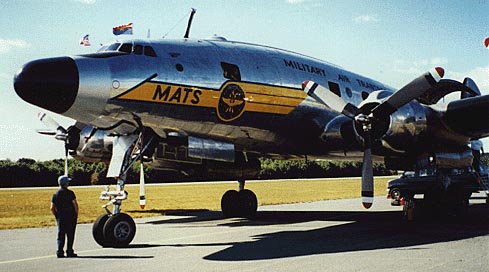 US NAVY R7V-1 SUPER CONSTELLATION (Photo Credit - William Henry Davis, K1WD)
Aircraft Above Is A Restored Air Force C-121, Navy Version Is Very Similar
Click below to see more photos of the "Connie"


The Navy MATS Page -- VR3, VR6, VR7, VR8, VR22 Squadrons

Lockheed Super Constellation -- Navy R7V-1 -- VR8

United States Navy C-130 Squadrons - Including VR-8

Lockheed Super Connie -- The Constellation Group

The MATS Connie Page -- Restoration Group in Arizona

Connie In Antarctica

Blue Angels Super Connie (C-121)

Navy Squadron VW-13 Restoration - Wow

Lockheed Super Constellation Avionics -- APS's, ARC's etc. (Compiled By R. Dinkins)


Air Force Constellation -- EC-121 (551st and 552nd AEW&C WINGS)

Lockheed EC-121 Constellation

Connie Survivors/Restorations

More Connie Survivors - lots of photos

Penndel's Super Connie Finds A Home -- This one had a Wet Bar and Dance Floor !!!!


Some Other Navy Aircraft I flew In

Beech SNB -- For Airborne Radar Training (APS-4 B-Scan Radar!)

Douglas Transport Aircraft -- R4D

Douglas R5D - A Navy MATS Photo

Martin Mars JRM-1 (Mariana's Mars) Flying Boat -- Two are still flying as firebombers

Lots of History and Personal Accounts of the Martin Mars

Photo Gallery USN Planes & Ships I Worked On Or Flew/Sailed In

AMATEUR RADIO CLUBS


San Diego DX Club

ARRL Member
Palomar ARC

Northern California DX Club - Former DXer Newsletter Editor


AC6V HUMOR

Not For The faint Hearted!!

$ MONEY_MAKIN & JOBS
Sheckle Generation --- Technical Writer - Electronics Instructor

Full Time DXing -- Retired - Mar 1999/Present - May Write A Book or Two!


See DX101X

FM101x



Solar Turbine San Diego, CA -- 1998/1999 - Power Turbines - 18,000 Horse Power!!!!


Palomar Products Carlsbad, CA-- P3V Avionics -- 1997


Cubic San Diego, CA-- J-Stars -- 1996


Hewlett-Packard Santa Clara, CA (21 years) -- Freq & Time, Lasers -- 1969-1990


Sylvania -- Reconnaissance Systems Mt View, CA -- 1962-1969


Philco -- Palo Alto CA, CAAF Tracking Stations -- 1960-1962


Convair -- Pomona, CA -- Terrier, Tartar, Mauler, Redeye -- 1956 -1960


Goodyear Aircraft, Akron Ohio -- Electronics Technician in the Goodyear Zeppelin Dock 1955-1956


US Navy -- Pacific Duty -- 1951 to 1955 Didn't make a lot of money there


Republic Steel -- Canton Ohio, Electrical Apprentice -- 1949-1951


Early Years -- Usher, Dishwasher, Farm Hand- Potato Fields


RIGS & TOYS


HF/VHF/UHF STUFF


Kenwood TS-870SAT

Kenwood TS-570S(G)

Kenwood SM-230


Ameritron AL-80B

Kenwood TS-790A

Kenwood TM-261


ADI-220 MHz

Icom IC-T2H

Kenwood TH-F6A


Bencher Single Paddle Key

LogicKey

Rascal PSK31
ANTENNAS


Cushcraft R-7000

Diamond U5000

Cushcraft AR6
BOATANCHORS


Hallicrafters S-40B

Hallicrafters S-38C

Swan 350 (Three-Drifty!)


Kenwood TS-830S

Hallicrafters SX-100
SCANNER/SWL


RadioShack Pro 2006 Scanner

Radio Shack DX-398 SWL
FRS


Kenwood FRS Radios UBZ-AL14
RAN OUT OF SHECKLES !
Will think of more to brag on Later!!

THE AC6V BRAG PHOTOS
HONOR ROLL -- BRAG BRAG


Latest Shack Shot -- 160 Meters To 1.2 Gig (less 900 Mhz)
Home Made QSL Card Using MS PowerPoint and Printed On Orange Card Stock.
Beam Is NOT Standard Equipment!!
Photo By AC6V With Pentax ZX-5 35mm Camera. At Oceanside Harbor.
Made With an Avery Transparent Label For AC6V Overlay.
Reverse Side Uses an Avery Label For QSL Info.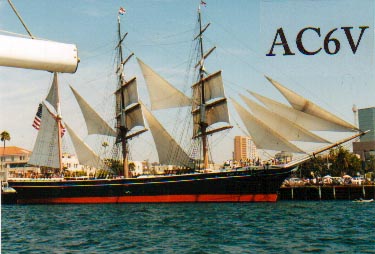 Star Of India At San Diego Maritime Museum
Photo By AC6V With Pentax ZX-5 35mm Camera.
For callsign - made with an Avery Transparent Label #8660.
Reverse side uses an Avery White Label #5263 For QSL Info.
The world's oldest active iron-hull sailing ship, the Star of India was built in 1863.
Star Of India History 2.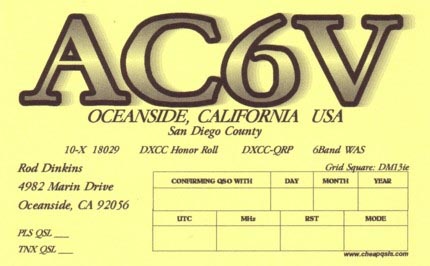 My Latest QSL Card From CheapQSLs


GO BACK TO THE BIG INDEX
Last Update: January 16, 2010