JARIAH B. DINKINS
1842 - 1937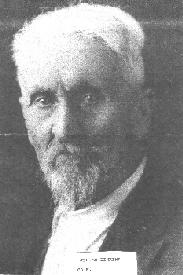 Jariah B. Dinkins, son of Henry and Polly Price Dinkins, was born on 11 Aug 1842 in Bartholomew County, Indiana. He died on 14 Dec 1937 and is buried in Newsome Cemetery, Columbus, Indiana
Jariah stood 5" 4" tall. He had a light complexion, with steel gray eyes and light hair. In 1861, at age 21, he enlisted in the Civil War and served in Company "H", 19th Infantry Regiment. His Civil War Service is documented in the book, "Iron Men, Iron Will" by Craig L. Dunn
He was wounded twice and on one occasion walked seven miles from the scene of a skirmish where he was shot, to a first aid dressing station. He was on leave in Washington the night Lincoln was shot.
Jariah stood guard over the body of Abraham Lincoln after he was assassinated "I had gone to Washington on a military pass" he said, "and was on my way back to camp when I heard of the tragedy from a passerby in the street. All were very excited. Some sentries stopped me, and an officer commandeered my services. For two days and a night I stood guard over his body. Mr. Dinkins says; "Lincoln was a great man. It is a pity he didn't live to finish the great work he had started. His vision and patriotism and firmness in the right were an inspiration to all of us all."
He voted a Republican ticket only once in his life. That was for Lincoln, he said, because he said he was "a great man". He admired Lincoln so strongly that to cast his ballot he left a hospital bed where he was suffering from recent bullet wounds.
His Brother William T. Dinkins 1845- 1925 also served in the Iron Brigade. He was serving as a courier and while delivering a message to an Artillery Battalion was attaced by Confederates and suffered wounds and a broken leg.
Two other brothers James (1836- 1862) and George Dinkins (1843-1862) were in the Union Army - E Company, 22nd Indiana Infantry Regiment and died of disease in Jacinto, MS after participating in several battles.
Their older brother Frederick (1829- 1906) was active in the underground railroad.